Who We Are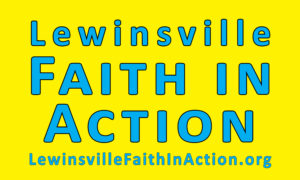 Lewinsville Faith in Action Leaders:
Jack Calhoun
Cindy Speas
Biography Jack Calhoun:
Jack Calhoun, President of Hope Matters, currently serves as a Senior Consultant to the National League of Cities. He has spent a lifetime devoted to improving the future prospects of vulnerable children, youth and families and the communities in which they live. He is a frequent keynote speaker here and abroad, has written three books and has lectured at major universities around the country. He served as Commissioner of Youth Services in Massachusetts, U.S. Commissioner of the Administration for Children, Youth and Families under President Carter, and Founder, President and CEO of the National Crime Prevention Council and the California Cities Violence Prevention Network. An honors graduate of Harvard's Kennedy School of Government, he has been listed in WHO's WHO in AMERICA and THE WORLD for more than 25 years.
Biography Cindy Speas:
Cindy Speas has a Masters in History from the University of North Carolina at Chapel Hill. Her professional career included teaching government in Virginia public schools; later she served as Director of Community Affairs for this area's federally designated organ, eye and tissue donation organization. Specializing in public relations and community education, she was instrumental in establishing the Virginia, Maryland and DC donor registries and coordinating with area DMVs to make those registries accessible. Recruiting and training volunteers of all backgrounds to tell their stories about donation saves lives was a key aspect of the success of the donor registries. Retired in 2015.
Issue Group Leaders
Electoral Politics:  John Clewett
Environment:  Ray Martin
Gun Violence Prevention:  Jack Calhoun
Immigration and Refugees:  Cathy Saunders
Redistricting and electoral reform:  Betty Douglass
DOWNLOADABLE BROCHURE:
https://drive.google.com/open?id=1mfs6CcI1Y7mFeOjABzrrfMTreje5uvlB