Who We Are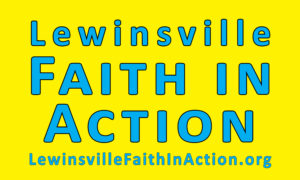 Lewinsville Faith in Action Leaders:
Jack Calhoun
John Clewett
Biography Jack Calhoun:
Jack Calhoun, President of Hope Matters, currently serves as a Senior Consultant to the National League of Cities. He has spent a lifetime devoted to improving the future prospects of vulnerable children, youth and families and the communities in which they live. He is a frequent keynote speaker here and abroad, has written three books and has lectured at major universities around the country. He served as Commissioner of Youth Services in Massachusetts, U.S. Commissioner of the Administration for Children, Youth and Families under President Carter, and Founder, President and CEO of the National Crime Prevention Council and the California Cities Violence Prevention Network. An honors graduate of Harvard's Kennedy School of Government, he has been listed in WHO's WHO in AMERICA and THE WORLD for more than 25 years.
Biography John Clewett:
John Clewett has worked as an attorney, an arts administrator, and an editor, and in his retirement is focused in particular on what can be done to combat the climate crisis and to resist foreign and domestic efforts to subvert American democracy.  A trained Climate Reality Project leader, he has given presentations on the climate crisis to church and school groups and others (see, e.g., https://youtu.be/eas9IJ5j7xA), and co-leads the Food and Climate Working Group, where Climate Reality leaders focus on how the food system affects climate, and what we can do about it.  He is on the steering committee for Lewinsville Presbyterian Church's Earth Care Team, and is also active with Faith Alliance for Climate Solutions, serving as the state transportation lead, and with the Climate & Clean Energy Working Group of the Virginia Grassroots Coalition.
Issue Group Leaders
Saving Democracy:  John Clewett
Electoral Politics:  Pat Matheson
Environment/Climate:  Cindy Speas
Gun Violence Prevention:  Jack Calhoun
Immigration:  Cathy Saunders
Refugees:  Betty Douglass
DOWNLOADABLE BROCHURE:
https://drive.google.com/open?id=1mfs6CcI1Y7mFeOjABzrrfMTreje5uvlB